beachy van 540
The new camper van with a beach house vibe
Easy, wild, flexible – beachy. This is how the new camper van was unveiled to the enthusiastic audience at Caravan Salon 2021 in Düsseldorf for the very first time. The BEACHY VAN 540 combines modern design with practical and well thought-out features. For adventurers and explorers who like things simple and uncomplicated: climb aboard and away you go!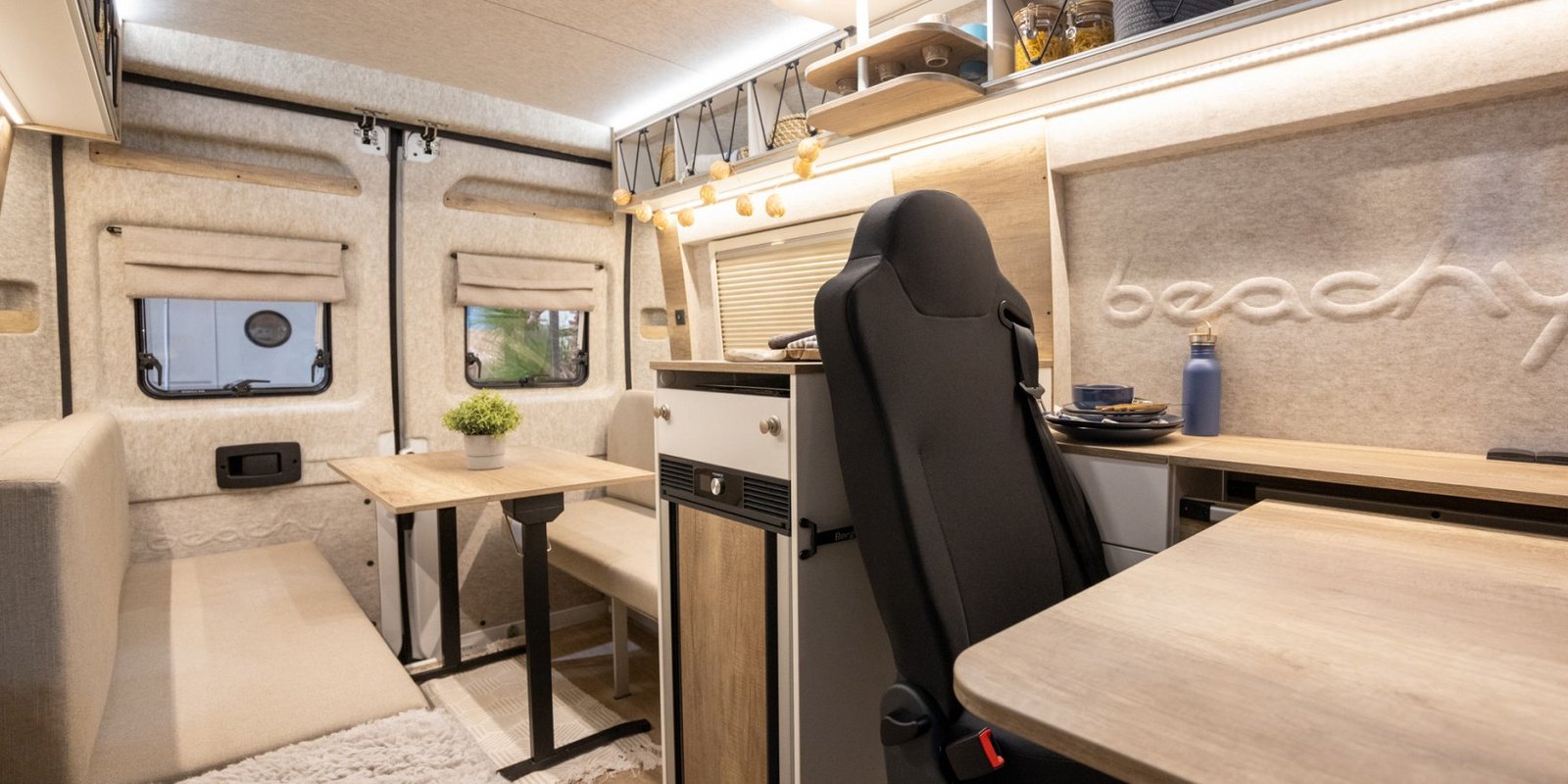 A unique feeling of spaciousness isn't the only impressive thing about the beachy. Its versatility leaves nothing to be desired either. The seats that can be adjusted to different positions make the beachy the perfect companion in any situation. There are hardly any limits to how creative you can be. The wide range of sleeping options, the folding table and all of the modular details allow your creativity to run wild.
Driving mode
Living area
Pop-top roof
An overview of just some of the highlights:
Flexible layout of the living area
Up to 5 seats when the vehicle is being driven
Track system for variable positioning of three extra seats with integrated seat belts
Face-to-Face seating area at the rear for four people
Framed windows with fly screen and blackout system
Portable Porta Potti toilet
Kitchen
70-litre compressor refrigerator with freezer compartment and double-hinged door
Pull-out hot plate with gas cartridge stove
Stainless steel sink
19-litre fresh and waste water tanks
Sleeping area
Up to 4 berths
Face-to-Face seating area can be converted into 2 berths
Pop-top roof with 2 berths
Heating
Diesel-powered heater (underfloor mounting)
Compact yet trendy and versatile – the beachy looks great and performs brilliantly on every adventure. The pop-top roof, which can be used as and when needed, is the heart and soul of the beachy. The caravan not only becomes a shelter for four people, but is also transformed into a lively beach house that can easily accommodate eight people.
Pictures of the beachy van
Planned sales launch from summer 2022 onwards!