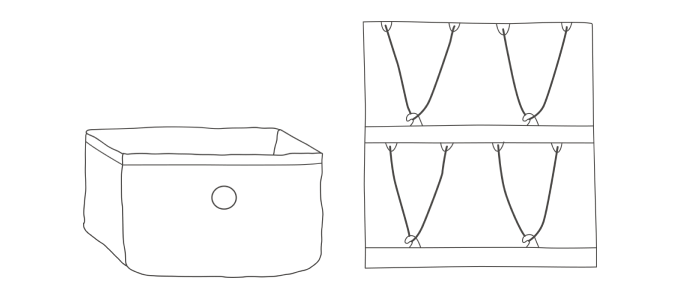 Make life cosy
Live, sleep, cook
Indoors and outdoors are not a contradiction in the BEACHY. Natural materials and fabrics bring that beach vibe inside. And with a few simple steps, you can set up your eating and lounge area outside. And of course you also have lots of storage space, comfy berths and a practical kitchen on board.
Nice and neat: thanks to practical storage solutions, everything is quickly organised in the BEACHY. Super convenient: the walk-in wardrobe plus lots of fabric-covered baskets and compartments for cords, kitchen utensils and all your bits and bobs.
Available as optional equipment
More storage baskets as an optional extra
Do you love our convenient baskets? Get some more! Simply order them as an optional extra from your BEACHY dealer.
Seating area conversion into a bed
Everything tastes better outside? Then simply throw open the wide entrance door and let the view inspire you. The kitchen unit has room for everything you need for cooking. The cool box is particularly convenient for ice-cold refreshments on the road.